Introducing Muse Personas in Subtxt: Revolutionize Your Writing Experience!
Unlock the power of virtual minds in storytelling
We are thrilled to unveil a groundbreaking new feature in Subtxt – Muse Personas! If you've ever used Custom Instructions in ChatGPT, you'll get a taste of what Muse Personas are all about. It's an innovation designed to cater to your specific creative needs, guiding your storytelling journey to new horizons. Let's explore!
Core Persona: Available to All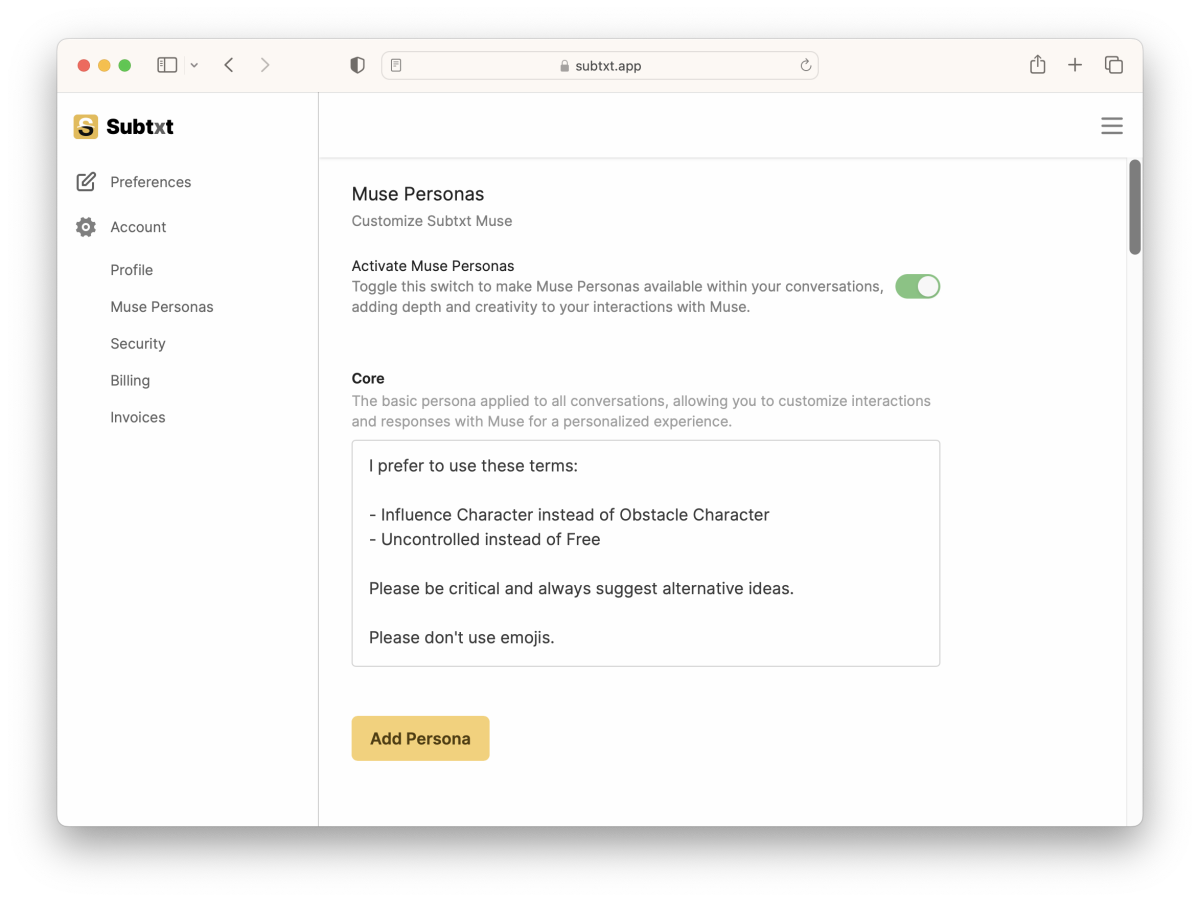 With the Core Persona, every Subtxt user, regardless of their plan, gains access to a world of personalized interactions. This feature can be found in your Profile Preferences under Muse Personas, where you'll see a toggle to activate and deactivate it.
Once activated, you'll discover a new button on the Muse Page at the very top marked "Mind." Click on it to "adapt" the Mind of Muse, aligning it with your unique instructions. Whether you want Muse to explore certain themes or use specific terminology, it's all possible here. You can toggle your Core Persona on and off with a simple checkmark and even select which Persona to use if you're subscribed to the Quantum plan.
Quantum Subscribers: Welcome to Your Virtual Writer's Room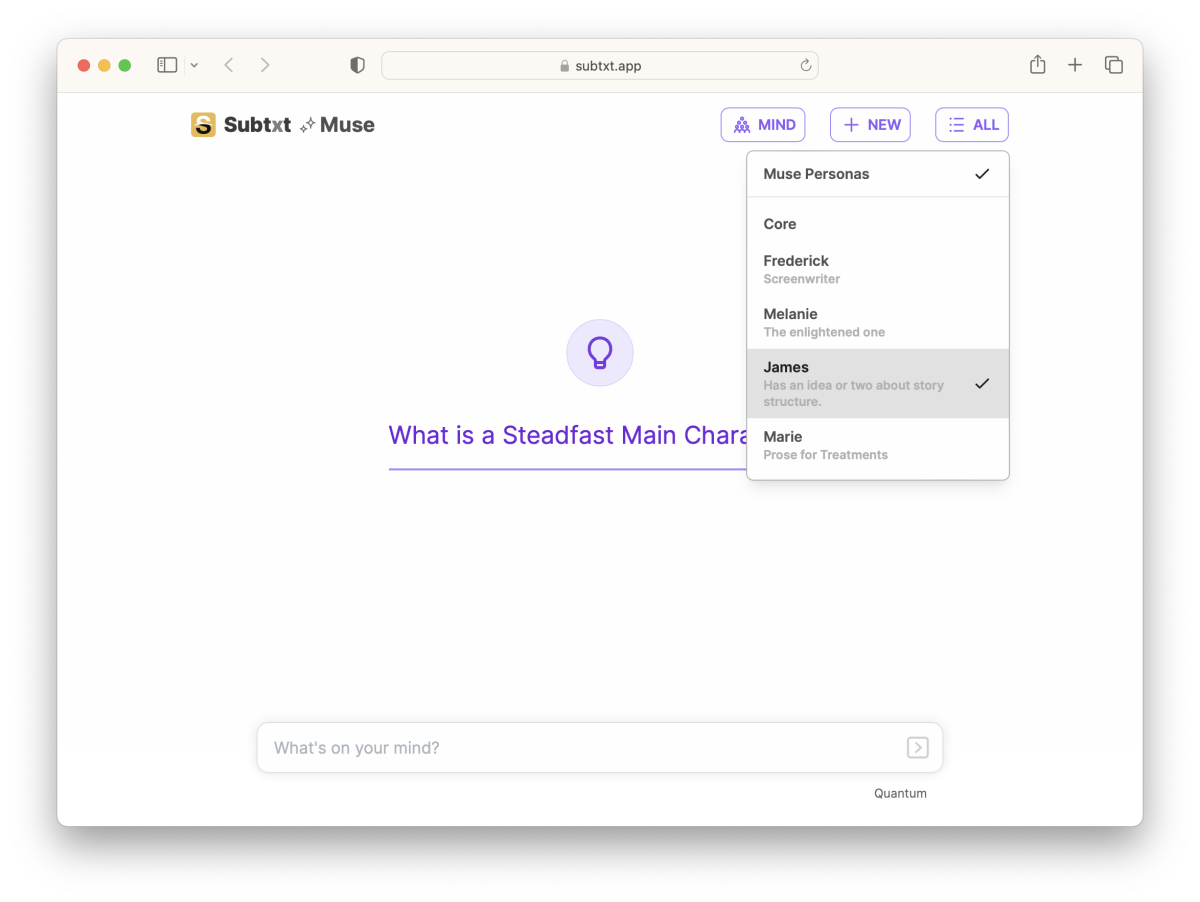 Quantum subscribers, get ready for an adventure into the world of endless possibilities! With multiple Personas, you can create virtual "minds" that carry their own unique talents. Need imaginative ideas? Create a Persona! Want a critical thinker? Just craft it!
To add a Persona, click on the Muse Personas page in your Profile Preferences. Here, you'll fill out:
Name: How you'll identify your Persona.
Description: A handy reminder of who this Persona is.
Personality: Define the unique characteristics, from professional writers to a 5-year-old child!
Instructions: Customize how the Mind proceeds, focusing on a particular Genre, questioning new ideas, or even using specific terminology like "Influence Character" instead of "Obstacle Character." You can even direct it to focus on a particular kind of story, such as "Only write female mental sex stories."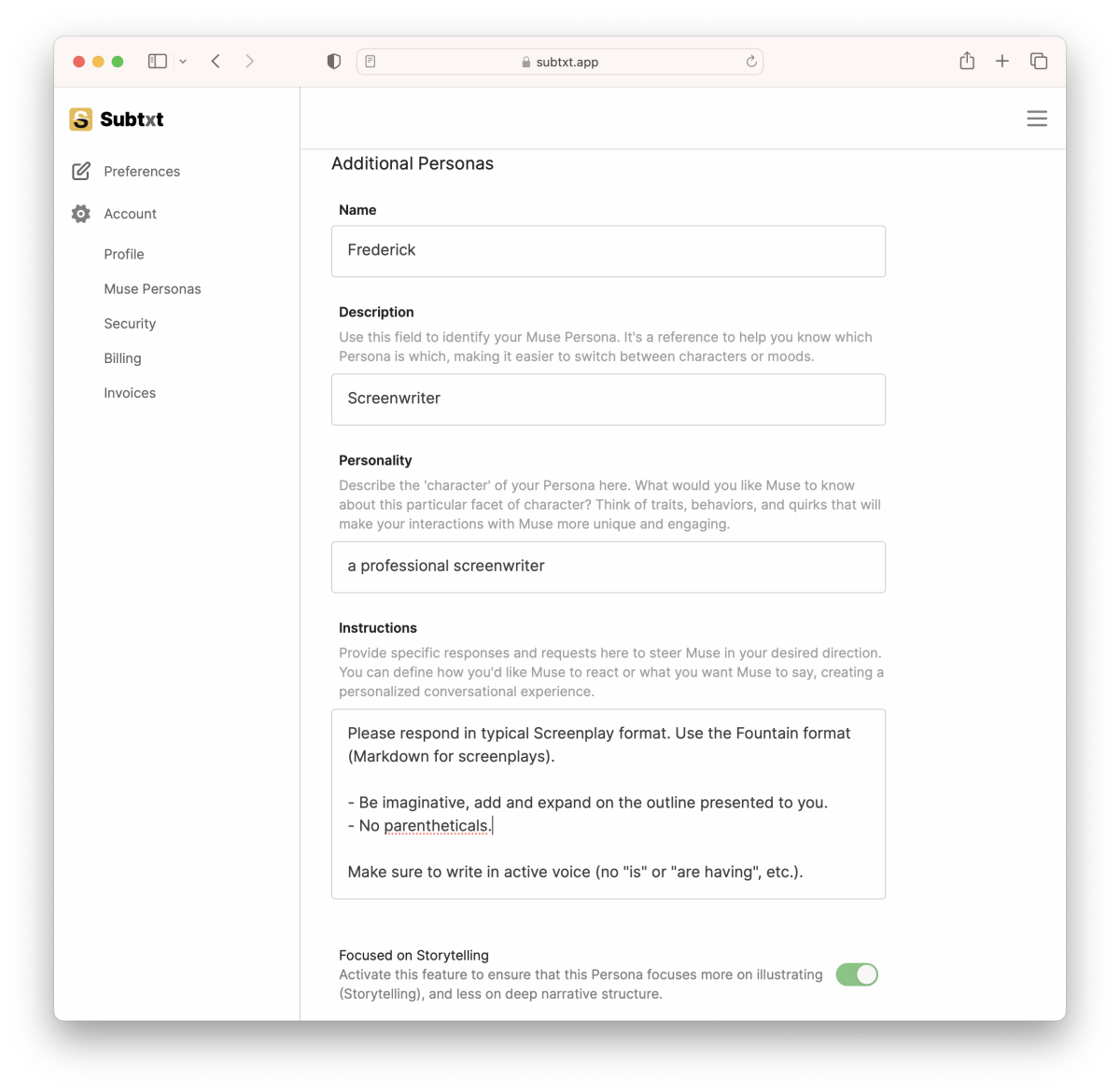 A unique feature is the toggle labeled "Focused on Storytelling." Flip this on to get pure storytelling responses bypassing the deep narrative structure that Muse is famous for.
For instance, if you want a Persona that is your personal virtual screenwriter, simply create a Persona, name them, give them the Personality of "a professional screenwriter" and instruct them with your particular bias when it comes to writing screenplays. Ask them to bold scene headings, write in Fountain format, or even to avoid parentheticals at all costs. The only limit is your imagination (and 1500 characters)!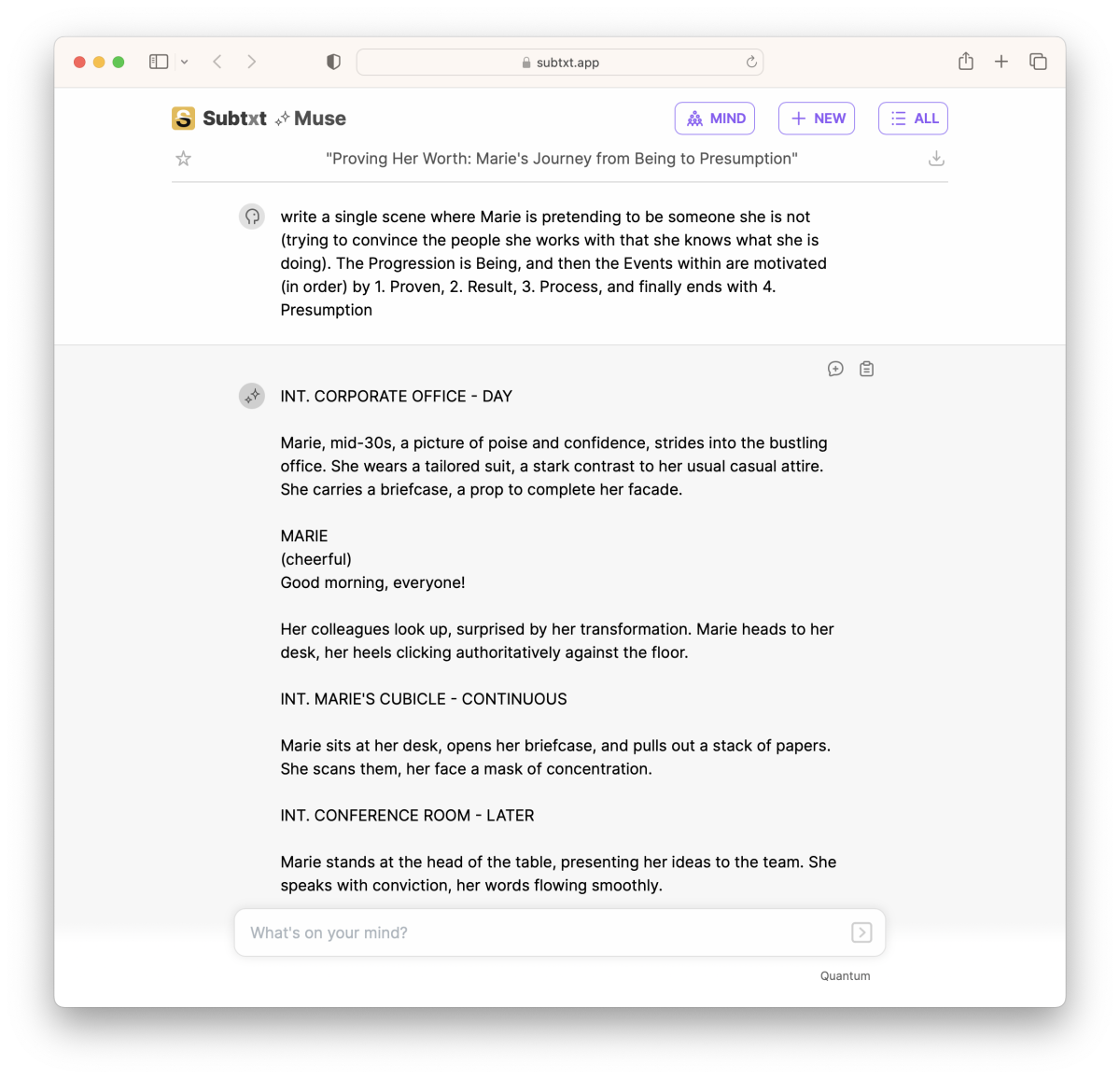 While the Storytelling-focused Personas offer a new dimension in crafting your narrative, it's essential to understand their scope. Muse is not trained on other screenplays or various styles of writing. Instead, it's trained on a narrative framework that aligns more closely with an outline or treatment. The actual "storytelling" – the prose, action lines, dialogue, etc. – may not be as polished as a seasoned writer might expect. Though these Storytelling-focused Personas will bring you closer to a "final draft," the true magic of writing the story still lies within you, the creator. They are tools to guide and inspire, but your unique voice and creativity remain the heart of your storytelling journey.
Final Thoughts
With Muse Personas in Subtxt, we empower you to craft the virtual writer's room of your dreams. All accounts have access to the Core Muse Persona, while Quantum subscribers can create as many Personas as they wish.
Join us in this exciting storytelling journey! Embrace the power of Muse Personas and let Subtxt be the wings to your creative flight. Your story awaits, and it's more personalized and engaging than ever before!