Illustrations
One of Subtext's key features is Illustrations. Inspired by "gists" from Dramatica theory and improved through practical experience, Subtext's Illustrations bridge the gap between artist and complex narrative terminology. With an added community aspect, bolstered by expert curation, the ever-expansive collection of Illustrations in Subtext guarantees a productive writing experience.
Illustrating Narrative Methods
You'll find Illustrations listed below every Method: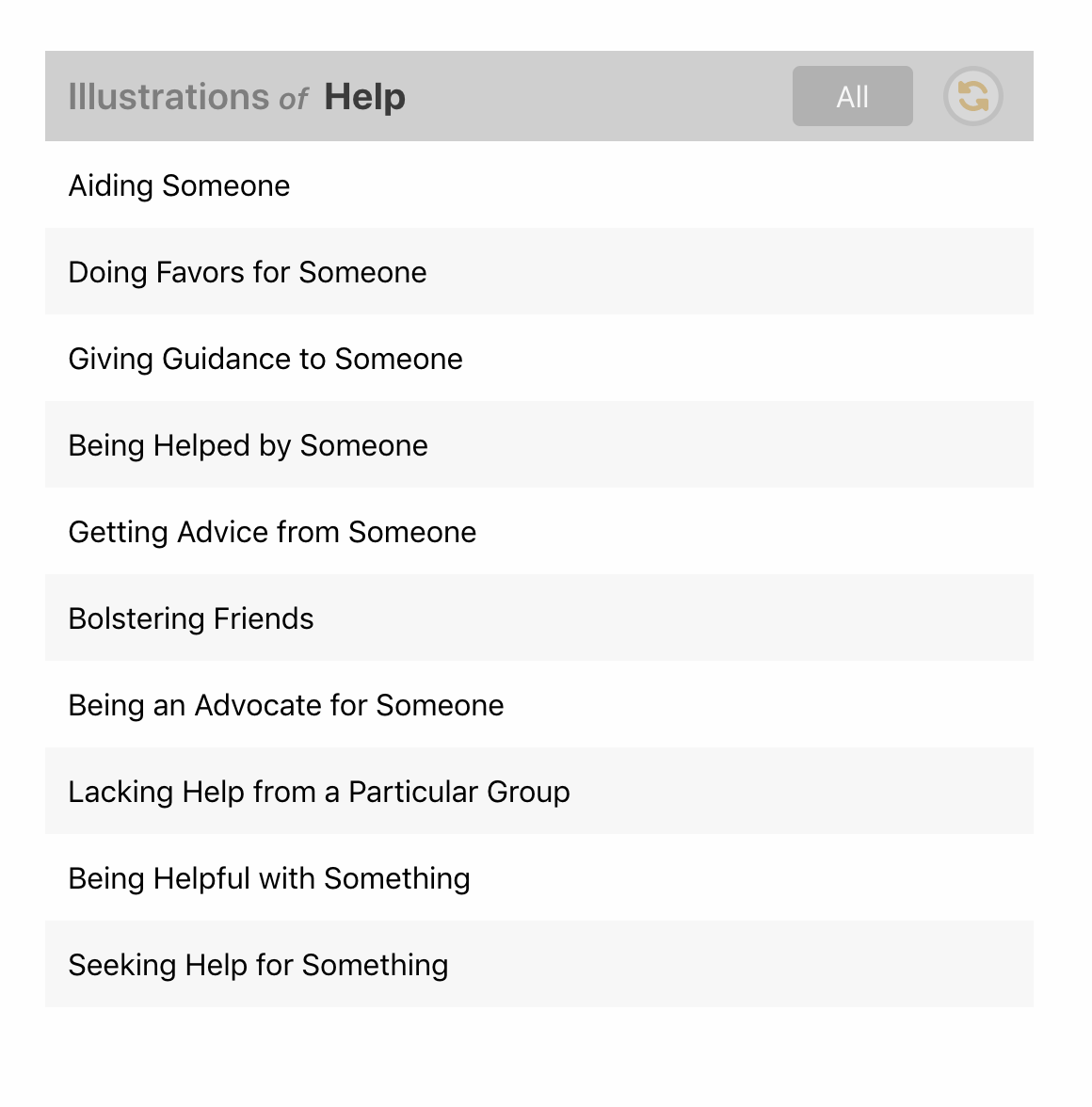 The Master List of Illustrations for a Specific Method
Each Illustration represents a close approximation of narrative structure. While definitions exist for each Method (found at the very bottom of every Method), these different versions allow for an improved understanding of the intent behind each narrative function. By offering a wide range of possibilities, the Author scans the collection and infers the meaning of the Method, rather than focusing on the Method itself.
Tap the All button to open up the entire collection, and the Shuffle button to juggle the current set.
expert
When considering a specific Method for writing, allow yourself to take in a set of Illustrations. Feel the intent behind the group. Then shuffle the set, and repeat. Continue this until you recognize the essence of what is being asked by this Method.
Narrative Methods range from Too Little to Too Much, and everything in-between. A Narrative Method of Conscious can be:
Too much: Dwelling on Something
Too little: Being Thoughtless
Just right: Wondering about Something
To help writers understand the breadth of possibility when writing with purpose, Subtext categorizes Illustrations into these three categories. You can find them sectioned off in the master list of Illustrations for each Method. Tap All to see their positive (Too Much) and negative aspects (Too Little).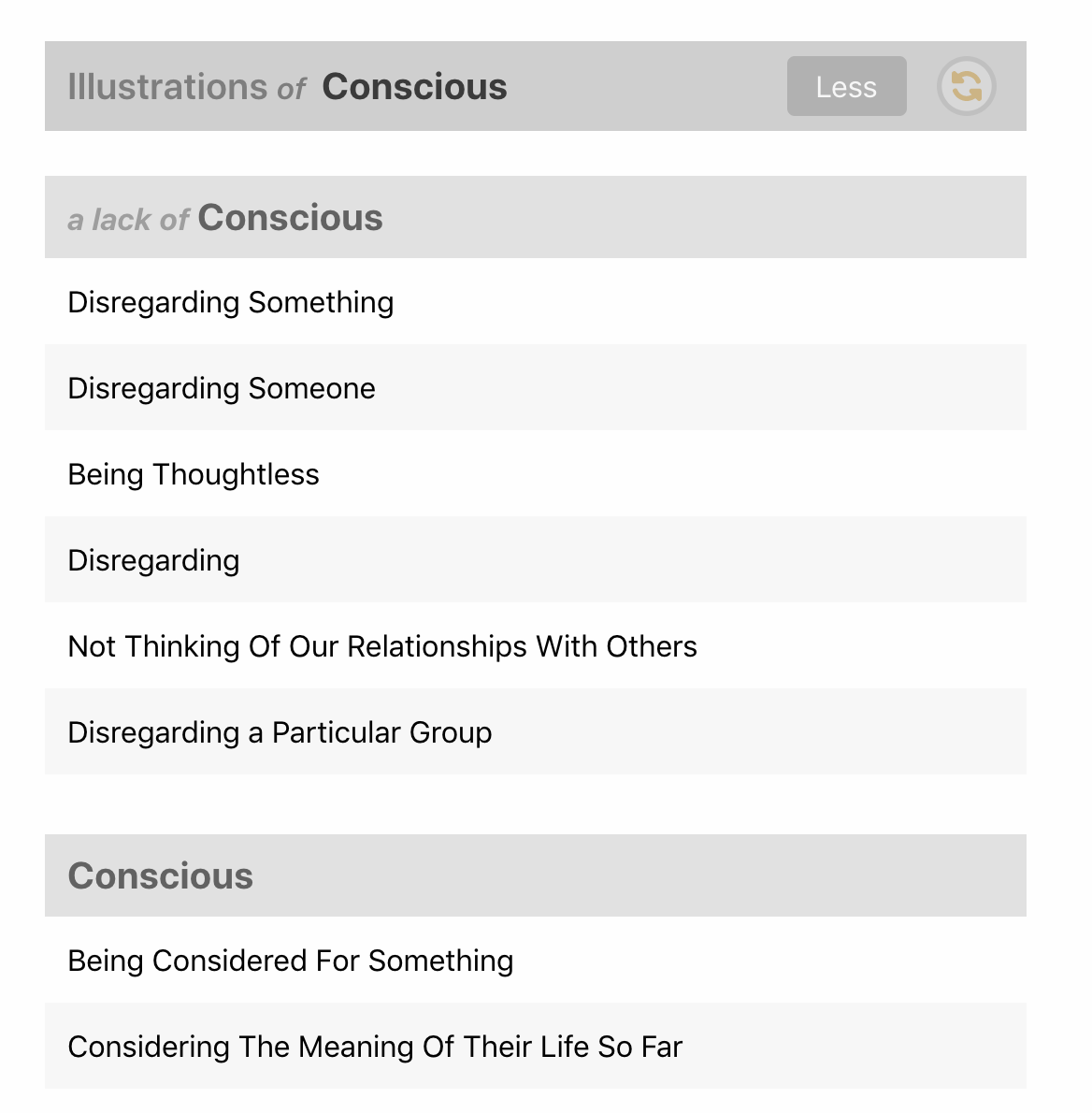 A Wide Range of Illustrations
Submitting Illustrations
The key component of Subtext's Illustrations is community. By submitting candidates for possible introduction into the global database, Subtext's writers improve the collective understanding and effectiveness of this approach to storytelling.
There are two places writers submit Illustrations to Subtext: a specific Method page and an individual Storybeat.
Submitting by Method
Beneath the list of Illustrations on every Method's page lies an entry form for suggesting new entries. Simply type in your idea and hit Submit. Subtext's team of experts will be notified and will start the approval process.
Note that Subtext's intelligence system automatically updates Illustrations for use in every context. You don't need to submit an entry for "climbing a mountain" and "climbs a mountain." Subtext will take care of all that for you.
tip
When submitting ideas for Illustrations, try to keep them as general as possible. You may be writing a story about "climbing Mt. Shasta," but the rest of the community benefits without the specificity.
If you do suggest an Illustration with too much detail, we may approve it—but will generalize the result to best suit everyone.
Once approved, your Illustration will appear in the master list for that Method. If denied, an email will be sent to your account explaining the reason for the rejection.
Learning by Example
As mentioned before, community is a key aspect of Subtext's mission. Beneath the master list of Illustrations and the suggestion box for new entries you will find a list of recent approvals and rejections for that Method. By opening the results of the approval process to everyone, the entire community can take advantage and learn from the most recent developments.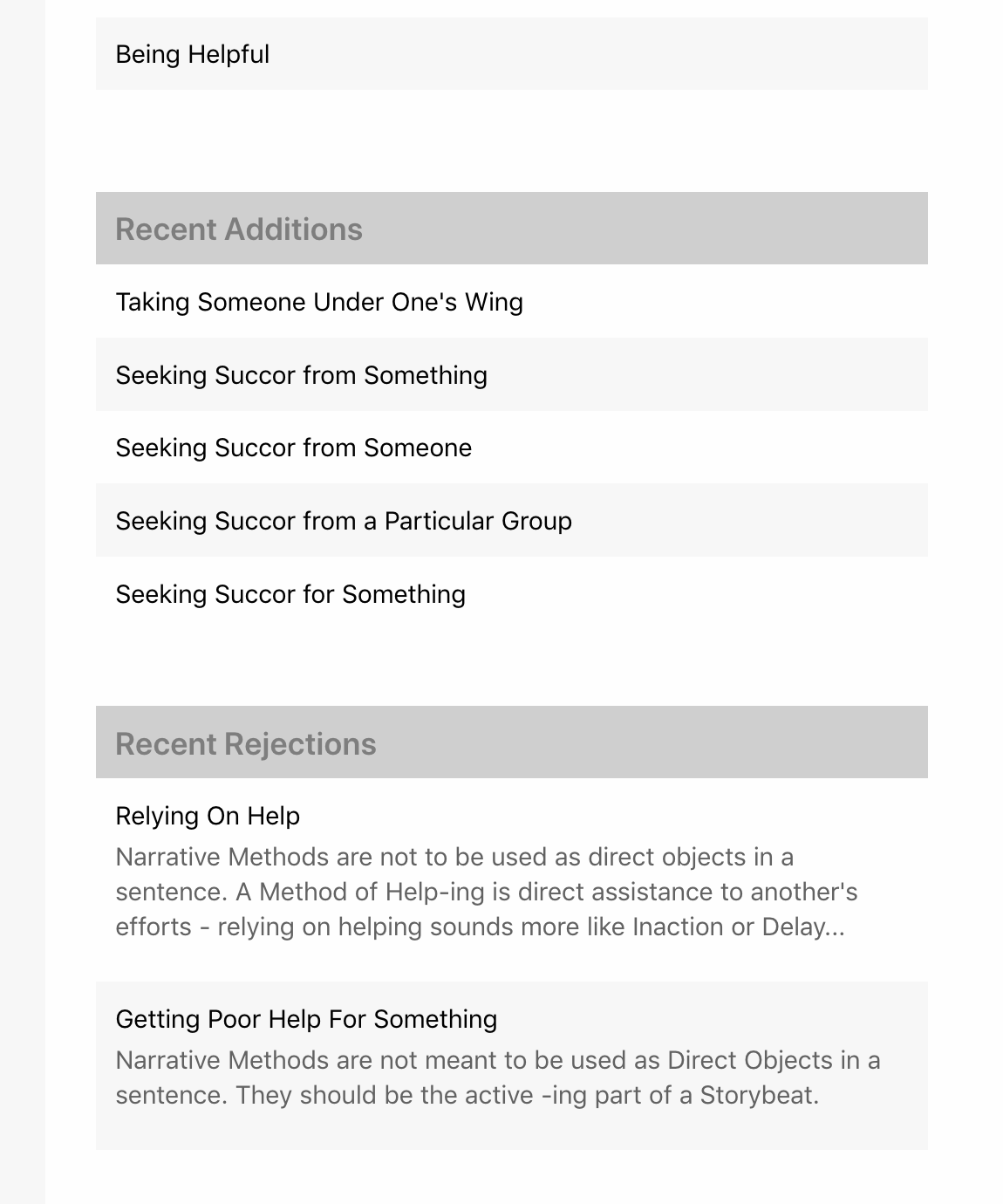 List of Illustrations Below each Method
The rejection list includes the reasoning behind the denial, in the hope that this will act as a prime learning opportunity.
(They, of course, remain anonymous)
Submitting by Storybeat
Writers may also submit Illustrations anywhere they are asked to choose a specific Illustration, either in a Storybeat or Storypoints window.
Note that as you enter a possible Illustration, Subtext filters out the list below. Eventually, all options will be dilute red and there will be no results. Subtext then asks if you would like to Submit your entry.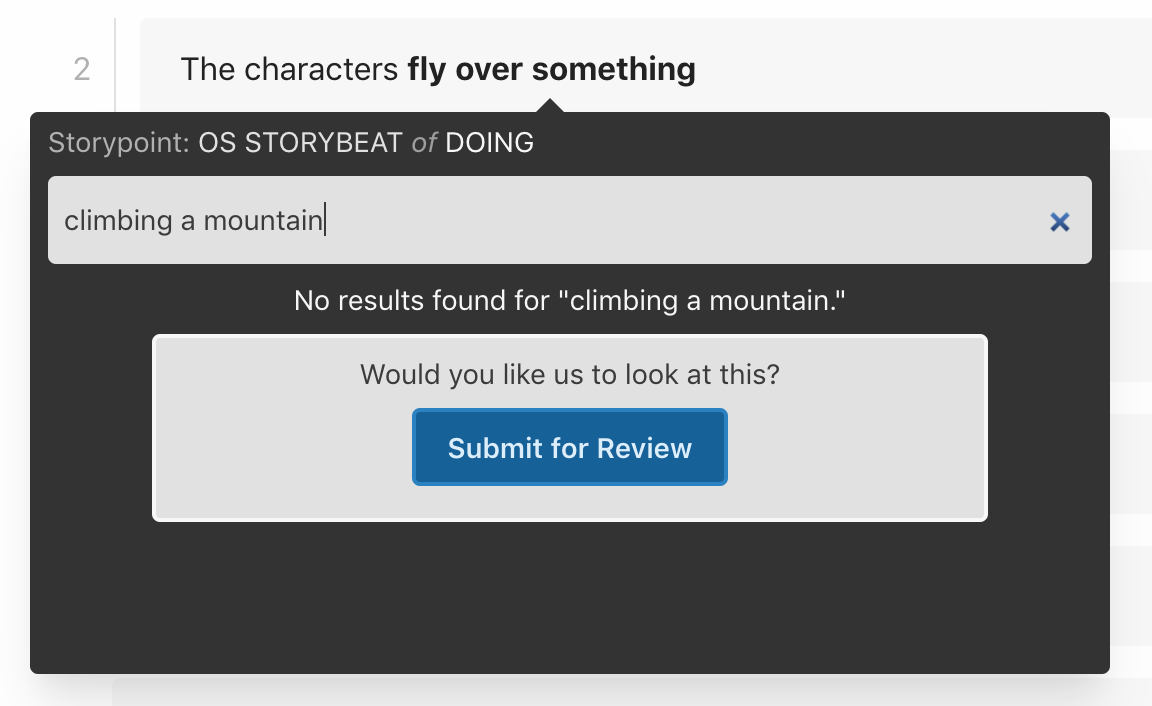 Submitting an Illustration in a Storybeat
Simply tap Submit Your Entry and your Illustrations will be sent for approval.

In the meantime, Subtext temporarily accepts your Illustration, marking it a gold color to signify its status. If approved, you will receive an email, and the color will shift back to th default black. If rejected, again you will receive an email, and Subtext will intelligently swap out your suggestion with another from the list.

Temporary Approval for an Illustration
The Latest and Greatest
If you would like to keep up-to-date on the latest additions and rejections to the Subtext library, visit the central Methods page (tap Methods in the sidebar), and tap the gold Latest Illustrations button in the upper right hand corner.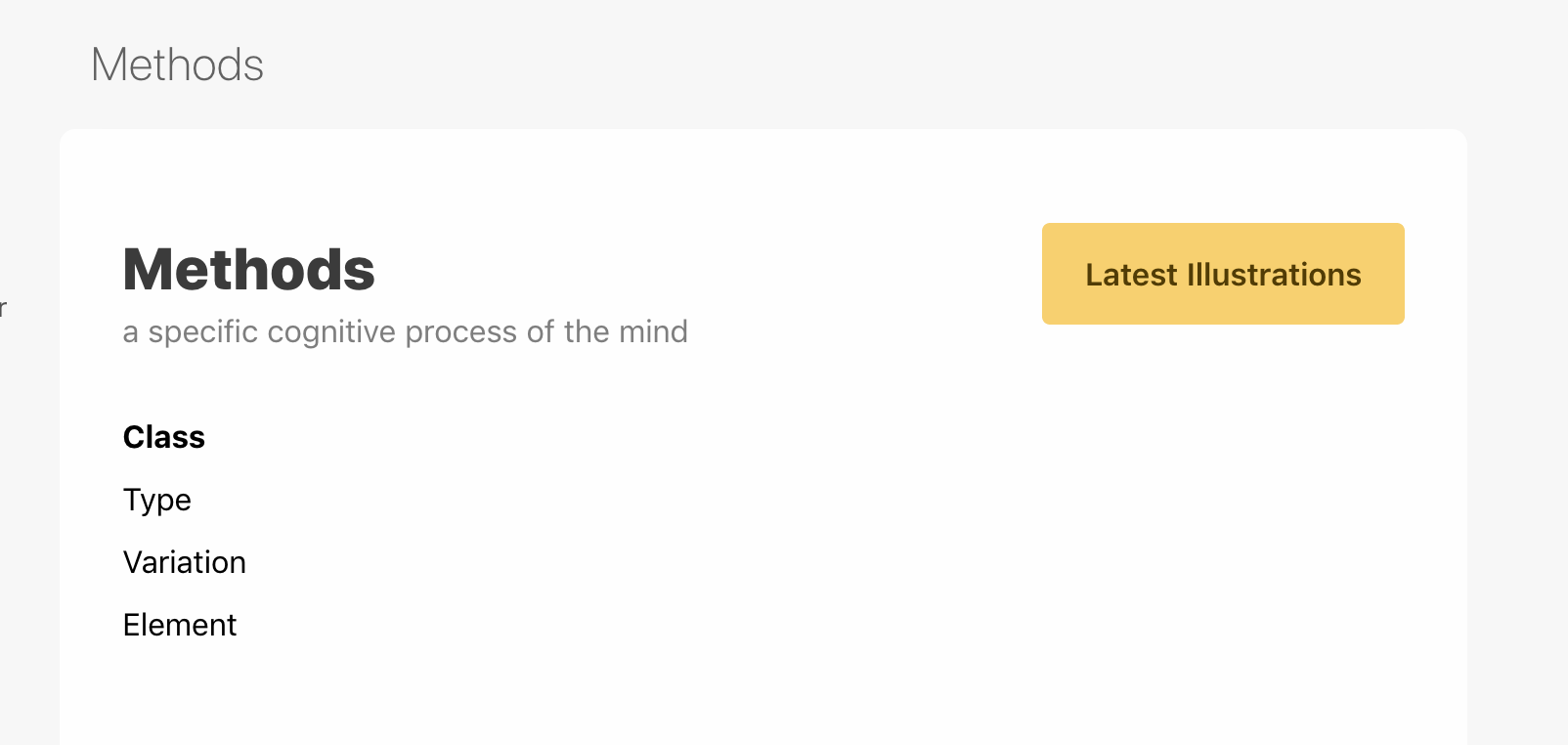 Latest Illustrations of Methods
Subtext finds the latest group of Approved Illustrations and Rejected Submissions. Tap on View to see the most recent updates. The Rejections include the reasoning behind the denial.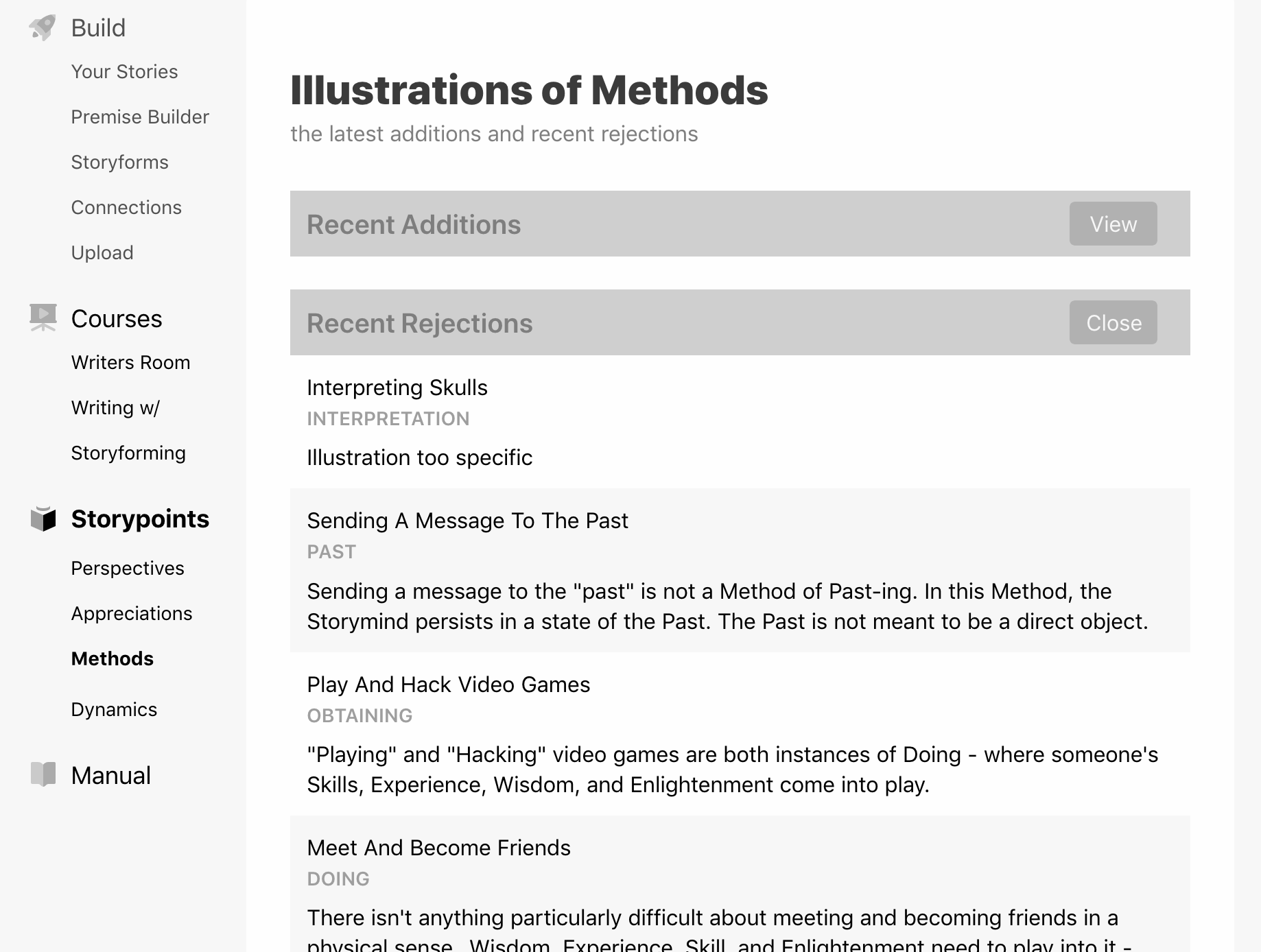 The Latest Additions and Rejections